Ava Mendoza's Unnatural Ways
Mike Sopko, Carmen Castaldi, Dan Wenninger
Beachland Tavern
Ava Mendoza's Unnatural Ways performs at the Beachland Tavern presented by New Ghost.
Primarily Seated, General Admission
Ava Mendoza's Unnatural Ways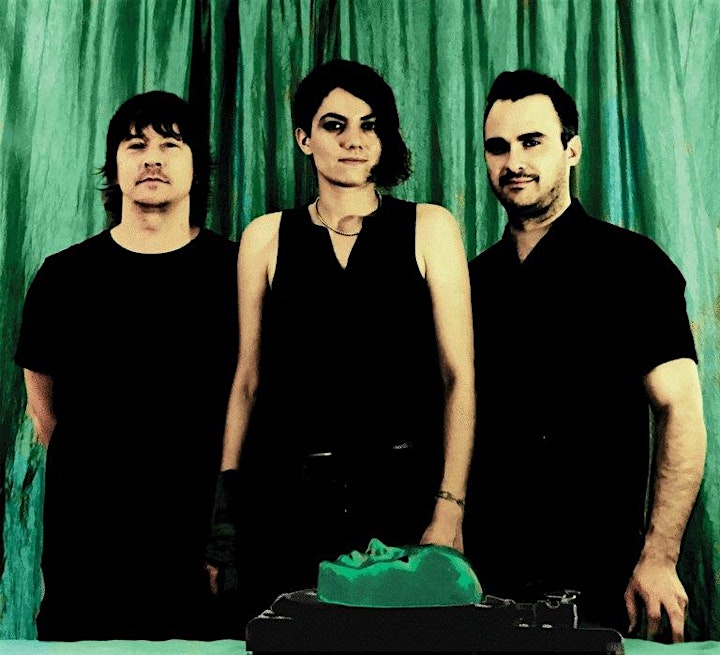 Ava Mendoza- guitar, voice
Tim Dahl (Pulverize the Sound, Bureau of Atomic Tourism, Lydia Lunch, Flying Luttenbachers)- bass
Sam Ospovat (Enablers, Brandon Seabrook, Angelica Sanchez)- drums
"Derek Bailey meets Morbid Angel in the sci-fi shredding of Ava Mendoza and power trio Unnatural Ways... Mendoza's riffs and solos bounce across the sonic landscape, sometimes shredding but just as frequently pulling from surf music or the industrial psychedelia of Chrome. The lyrics combine two types of alien imagery: the immigrant/emigrant type, and the extraterrestrial... Her voice is a clean post-punk wail of the Siouxsie/Savages school..." –The Wire
"The new record from electric guitarist Ava Mendoza's band Unnatural Ways, Paranoia Party, is a shredding expose of guitar riffs and sophisticated lyrics in seven new tracks. Revealing an eclectic range of influences that stretch across modern music, this new record is Mendoza's most confident and far-reaching artistic statement to date. This music is at once recognizable enough to appeal to fans of rock, metal, and punk, while remaining edgy enough to draw art-damaged experimentalists and eccentrics. One of the big leaps forward with this record are Mendoza's pointed lyrics that mesh well with the searing guitar-bass-drums lineup". - Cisco Bradley, Jazz Right Now
AVA MENDOZA is a Brooklyn-based guitarist, singer, songwriter and composer. Born in 1983, she started performing her own music, and as a sidewoman and collaborator in many different projects, as soon as she was old enough to get into 18+ venues. As a guitarist, Mendoza has received acclaim for her technique and viscerality. Her most ongoing work is as leader of experimental rock band Unnatural Ways, and as a solo performer on guitar/voice. In any context she is committed to bringing expressivity, energy and a wide sonic range to the music. Mendoza has toured throughout the U.S. and Europe and recorded or performed with musicians including Carla Bozulich, Fred Frith, Mick Barr, Nels Cline, Jon Irabagon, Jamaaladeen Tacuma, Tune-Yards, the Violent Femmes, Mike Watt, and more. Recordings are available on labels Tzadik, Weird Forest, Clean Feed, NotTwo, Resipiscent, and New Atlantis. Friendly critics have quoted: "It's… Ava Mendoza's deconstructing of blues and punk into brutal shredfests that's causing a ruckus in NYC's DIY hubs" (Brad Cohan, Noisey.Vice). "A wizard on a semi-circle of effects pedals, but… equally adept with FX-less technique," (Lars Gotrich, NPR). She was featured as one of Guitar World's "10 Female Guitarists You Should Know".
Mike Sopko, Carmen Castaldi, & Dan Wenninger
Mike Sopko was born in Cleveland, Ohio. As a teen he played in various local bands while studying with local Cleveland Jazz/Fusion guitarist, Steve Gordon. After moving to Oakland, California in 2003, Sopko spearheaded numerous projects, including MCR (w/ G. Calvin Weston), Cascading Liquid Rainbows (w/ Dosh, Chris Lopes), The Golden Measure (w/ Simon Lott), and Glimpse Trio/Duo (w/ Hamir Atwal, Chris Lopes). After meeting Hamir Atwal (Tune-Yards) in 2009, the duo toured extensively, releasing four albums, the first of which was awarded Editor's Pick by Frank Alkyer of Downbeat Magazine in 2011.

Over the years, Sopko has recorded and performed with artist's such as Bill Laswell, Thomas Pridgen (Mars Volta), Dave King (Bad Plus), Dosh, Tyshawn Sorey, Hideo Yamaki, Dj Logic, Raoul Bjorkenheim, Chris Pitsiokos, Hamir Atwal, Los Lobos and many more. In 2015, Sopko released Sopko/Laswell/Pridgen, a trio collaboration with legendary producer/bassist, Bill Laswell and drummer phenom, Thomas Pridgen. Sopko's upcoming release's for 2019 and 2020 include, "On Common Ground," a trio recording with Bill Laswell & Tyshawn Sorery, "Rituals" Mike Sopko & Thomas Pridgen, and "$pellcheck" with Dave King & Martin Dosh.

Sopko currently resides in Shaker Heights, OH, with his wife and two daughters, recording and touring regularly with his bands, Yellowstone Apocalypse(Sludge/Metal duo with Joe Tomino), And Then Came Humans (Jazz/Rock duo with New Orleans drummer Ryan Long), and Togishi (avant-electro-acoustic trio with Dan Wenninger & Joe Tomino)

Dan Wenninger is a Cleveland based saxophonist and veteran of NE Ohio's jazz and experimental sound scenes. He currently performs with Togishi, Revolution Brass Band, Oblique Orchestra, Hexapod, Trepanning Trio, Beans, and Broken Ornaments (his annual Free Jazz holiday concert). In the past he has performed and recorded reggae with Carlos Jones, afrobeat with Mifune, psychedelic space rock with Fuzzhead, electronic fusion with Pureplex, and freaked out avant-rock with Scarcity of Tanks. His various projects have opened for and shared the stage with such artists as Tatsuya Nakatani, Joe Morris, Ken Vandermark, Ozomatli, Liquid Soul, Paal Nilsen-Love, Susan Alcorn, Boneshaker, Ingrid Laubrock, Tom Rainey, Blowfly, Joe Lovano, Judy Silvano, Frode Gjerstad, Breakestra, and he's the saxophonist on two recent BEANS albums, HAAST and Someday This Will All Be Ash.

He has spent over a decade curating the music at an event called 1Way, a monthly showcase that presents and documents local experimental, new, and free music. He also organizes a monthly free improvisation "jam" session called OutLab: Experiments In Improvised Music that takes place at legendary Cleveland jazz club, The Bop Stop. In 2018 he served as one of the music curators for Cleveland's CAN Triennial art/music/film Festival.

Carmen Castaldi emerged in the 1970s, and spent decades as a highly sought-after sideman, working on the West Coast with artists like longtime associate Joe Lovano, Frank Strazzeri, and Keely Smith. In 2019, he paired with Lovano and pianist Marilyn Crispell for Trio Tapestry.

Raised in Cleveland, Ohio, Castaldi started playing jazz drums in his youth. After high school, he honed his skills at Boston's Berklee School of Music, where he attended alongside fellow Cleveland native, saxophonist Joe Lovano. There he studied with noted performer/instructors Joe Hunt, Alan Dawson, and Ed Bobick. Graduating in 1974, he moved to Las Vegas and spent much of the next decade working with artists like Keely Smith, Don Rickles, and Sonny Stitt. Relocating to Los Angeles, he continued to find performance opportunities, working with a bevy of West Coast luminaries including Teddy Edwards, Bill Perkins, Frank Strazzeri, and Herb Jeffries. During this period, he was also a member of the Bob Gail Orchestra. Over the years Castaldi has stayed in touch with Lovano, working with the acclaimed saxophonist on gigs at Los Angeles' the Jazz Bakery (with trumpeter Tim Hagans), the San Diego Jazz Festival, and New York's the Knitting Factory (with pianist Kenny Werner). In the mid-'90s, Castaldi returned to Cleveland, where he led his own groups and continued his association with Lovano, appearing on 2002's Joe Lovano: Viva Caruso. In 2019, he joined the saxophonist and pianist Marilyn Crispell for the ECM date Trio Tapestry.

Venue Information:
Beachland Tavern
15711 Waterloo Rd
Cleveland, OH, 44110