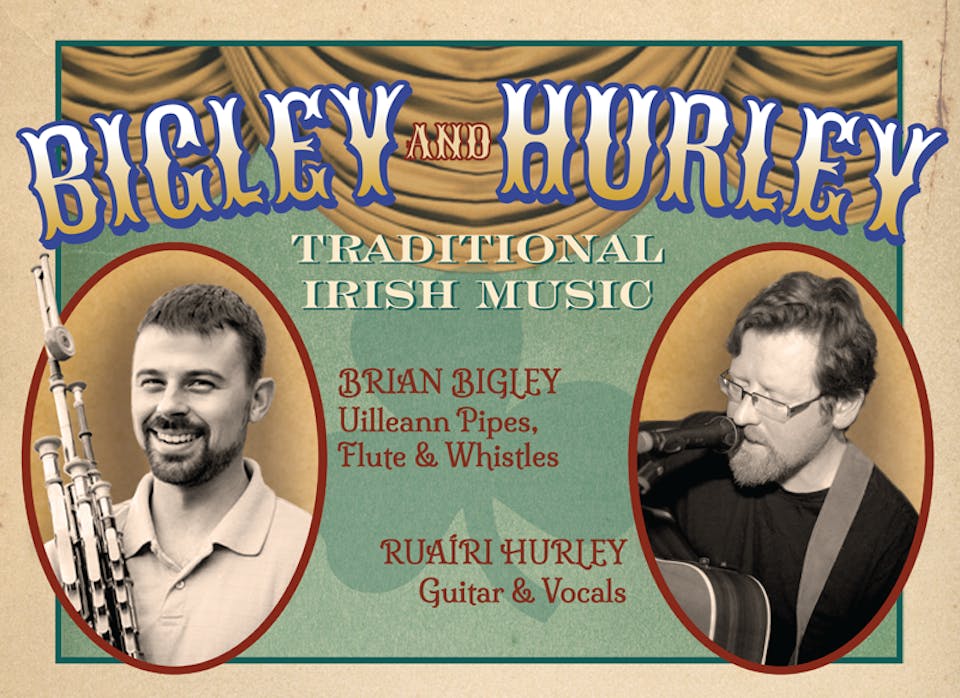 Primarily Seated, General Admission
Brian Bigley & Ruairi Hurley
Beachland Tavern
$10.00 - $14.00
Tickets At The Door
Brian Bigley & Ruairi Hurley perform traditional Irish music at the Beachland Tavern.
Brian Bigley
Brian Bigley has studied the Irish Uilleann pipes for nearly 25 years as a player, as well as a maker, of the instrument. He has toured North America and Europe extensively as both a musician and a dancer, appearing in shows such as Tomàseen Foley's A Celtic Christmas, the Omaha Symphony's Celtic Journey, and the Apollo's Fire Countryside Concert Series. In 2002 and 2003 Brian competed with great distinction at the World Irish Dance Championships held in Glasgow and Killarney. He has recently released his fourth recording of traditional Irish music Dance the Town Green in conjunction with the New York School of Irish Dance.
Brian now lives near Cleveland, Ohio, with his fiddler wife, Kristen, and their dancing children, James and Kathleen.
Ruairi Hurley
Born in Dublin, Ireland in 1971, Ruairí Hurley is the youngest of 10 children. Family members like to recount stories of a four-year-old Ruairí sitting at the family piano and sound out familiar tunes by ear. As a teenager he was given an electric guitar, however he had no amplifier. For years he played along with his favorite rock 'n' roll records, barely hearing his own guitar, but learning all of his favorite songs. Once he got an amplifier, Ruairí began playing out in bands around Dublin. By day, he was a bookseller at the famous Hodges Figgis bookstore while he worked on his degree from Trinity College, where he majored in the Irish language and religious studies.

In 1995, Ruairí moved to the US where, in the years that followed, he discovered his love for the traditional Irish music of his homeland. Currently Ruairí works for the county library system and continues to study his craft at home in the evenings and in several of Cleveland's favorite Irish pubs by night. ​

Venue Information:
Beachland Tavern
15711 Waterloo Rd
Cleveland, OH, 44110