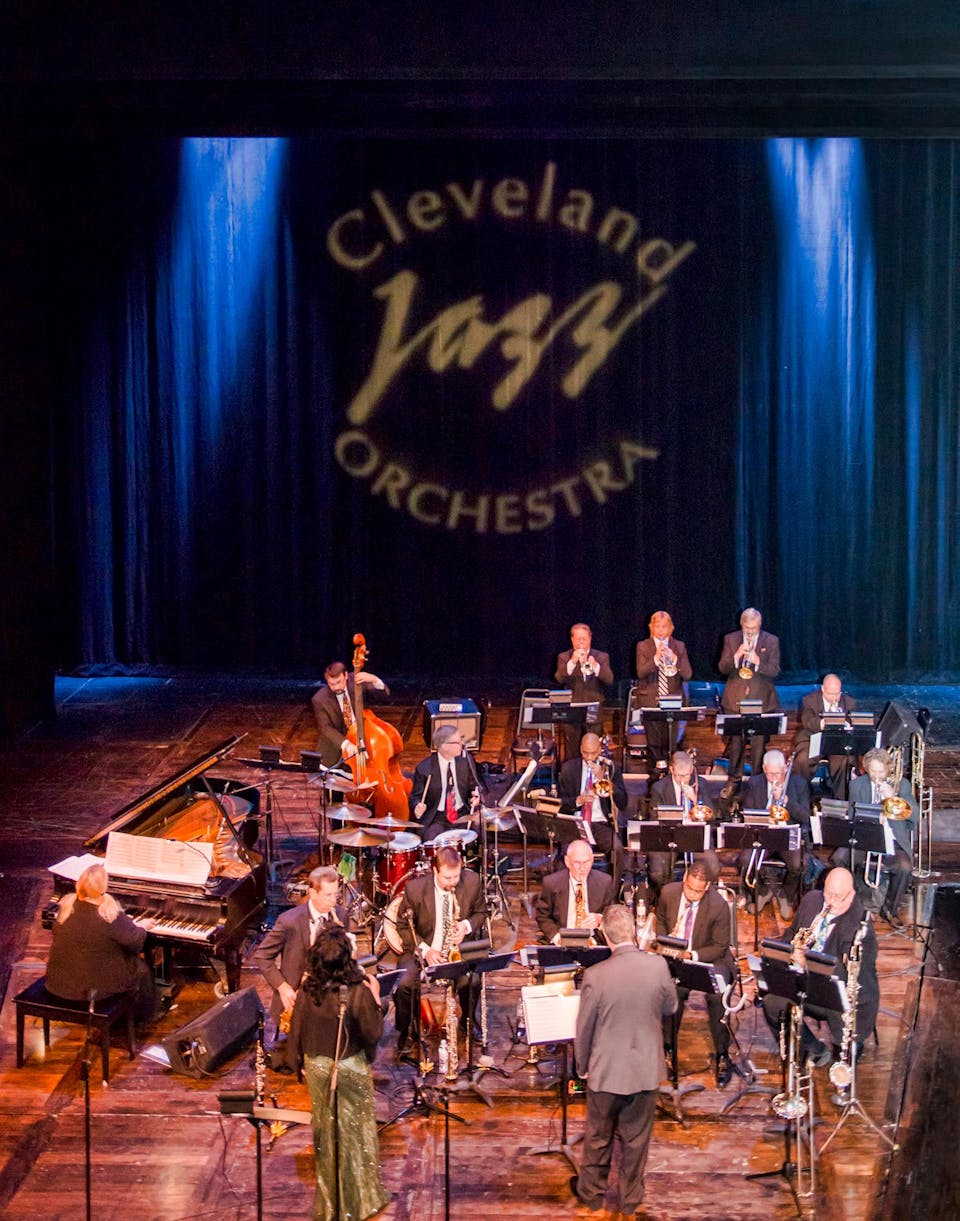 Primarily Seated, General Admission. Reserved Seats available.
Cleveland Jazz Orchestra: The Big Easy meets the Northcoast - It's Mardi Gras Time!
Beachland Ballroom
$35.00 - $55.00
Tickets At The Door
Cleveland Jazz Orchestra performs at the Beachland Ballroom.
For the first time in 35 years, the CJO will be throwing a Mardi Gras party!!! Let the Good Times Swing! The CJO will be joined by vocalist Reggie Bowens - don't miss our reverent and creative spins on some of the most fun music ever created.
When the Saints Go Marching In - James Black
King Porter Stomp - Jelly Roll Morton
King Porter Stomp - arr. Fletcher Henderson
Universal Dance - Dave Morgan
Pumpernickle - Scott Garlock
With Reginald Bowens
What a Friend We Have in Jesus - Charles Converse
A Quiet Place - arr. Reginald Bowens
Precious Lord  - arr. Reginald Bowens
Got My Mojo - Muddy Waters arr. Brad Wagner
The Farewell - Thad Jones
Intermission
Duke Ellington-New Orleans Suite
1. Portrait of Louis Armstrong
2. Thanks for the Beautiful Land on the Delta
3. Blues for New Orleans
4. Second Line
With Reginald Bowens
Autumn Leaves - Johnny Mercer, arr. P. Jones
Peace - Horace Silver, arr. Aidan Plank
What He Said To Her - Hamilton Hardin
Just a Closer Walk - W.S. Stevenson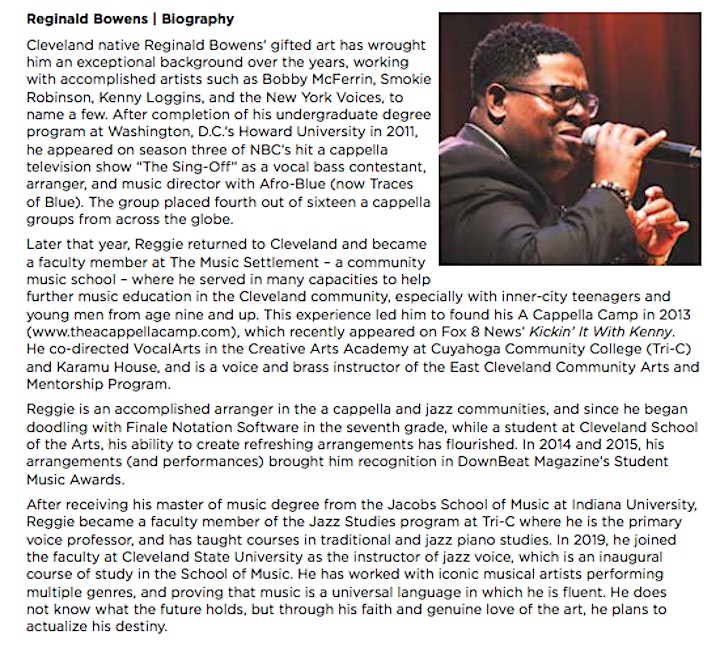 The mission of the Cleveland Jazz Orchestra is to enrich the cultural, educational and intellectual fabric of the communities we serve through jazz performance and education. In addition to our Season Series Concerts, the CJO offers Northeast Ohio much-needed educational outreach and concerts featuring music specific to the ensemble.

The CJO presents local, regional and internationally recognized performers as part of the Season Series Concerts. These shows feature a variety of themes from the history of jazz and from other influences. While these five pairs of shows have been performed at Playhouse Square in downtown Cleveland in recent years (and at BLU Jazz+ in Akron), this upcoming season will have a much larger geographic footprint, and is aimed at increasing audience size and increasing our audience diversity and youth.

New this year is the launch of a "Women in Jazz" series, which formally will be inaugurated in our May 2020 concert with MacArthur Genius Award, Doris Duke Award and Grammy Nominated violinist Regina Carter. The CJO aims to give young women role models by presenting recognized women jazz performers and offering 'hands on' educational experiences in which CJO musicians work directly with young women performers.

Supplemented by fund raising and a new line in the budget, the CJO is working hard to expand its educational outreach by providing clinics and concerts in schools and in free/discounted tickets for students. Last year we collaborated with the Roberto Ocasio Foundation for their Summer Latin Jazz Camp, and we will continue collaborations with schools (such as the recently completed stint with the Cleveland School of the Arts). Rehearsals are also held regularly at Northeast Ohio schools. Via a Gund Foundation grant, the CJO is piloting a 7 week residency with 5 CJO musicians in the Cleveland Metropolitan School District this fall.

Via our "CJO in the City" program, the CJO provides music for outdoor summer events, places of worship, functional background music, music for the elderly, and nightclubs. The CJO also looks to continue and expand collaborations with non-profit groups. The last 18 months has seen the CJO create music with a number of non-profit music groups, and has also provided music for non-profits events. The "CJO in the City" events feature the full big band (16-18 pieces), soloists, duos, trios and other smaller groups of 4-10.

The CJO will continue to perform music uniquely crafted for the ensemble by its members with internationally recognized jazz artists. A new budget line was recently created to support band members compositions and arrangements.

Venue Information:
Beachland Ballroom
15711 Waterloo Rd
Cleveland, OH, 44110