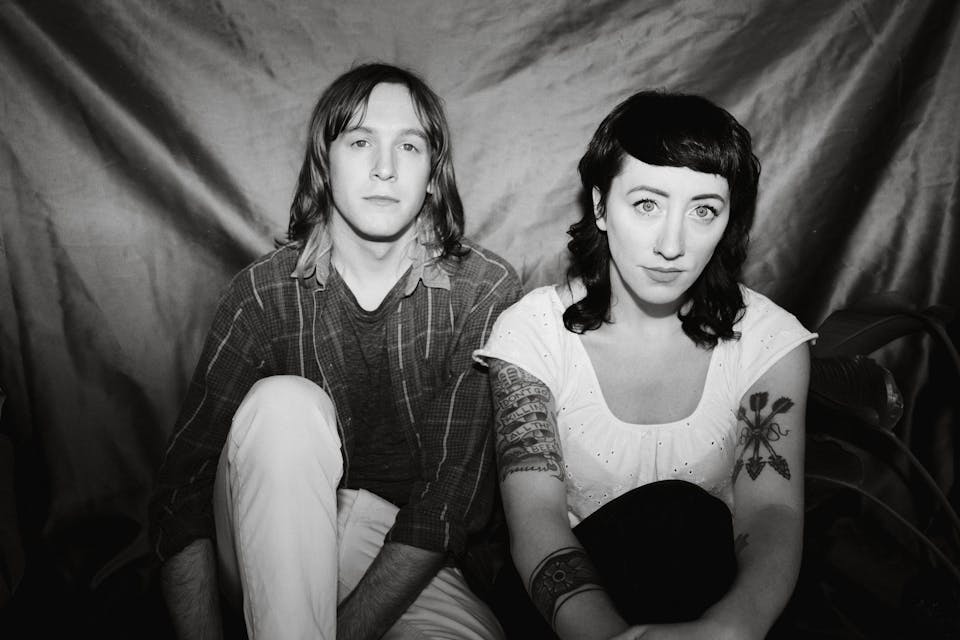 Gladie performs at the Beachland Tavern with Sure, Machine.
Gladie
Safe Sins, the debut record from Philadelphia band Gladie, begins with a prayer: "I close my eyes, pretend to pray/That this shame would just fuck off today," sings Augusta Koch, her familiar timbre floating atop a wave of bleary-eyed synths on opener "Pray." It's a gentle, hymnal introduction to a record that ducks from jangly power pop to plucky indie rock, scrappy electronic psych jams to swaying shoegaze. The record borrows its title from Koch's poetry zines: Safe Sins is a place of safety, acceptance, and progress. It is a record about isolation, loss, and dismantling shame and grief through self-analysis.
Koch, formerly of beloved Philly trio Cayetana, has been working on the 10 songs that comprise Safe Sins for years. They existed first as poems before being brought to life at The Bunk in Henryville, Pennsylvania, where Koch (guitar, vocals) recorded with bandmates Matt Schimelfenig (guitar, bass, keyboard, vocals), Ian Farmer (bass), and Pat Conaboy (drums). Schimelfenig also produced and mixed the record.
Koch explains that while Safe Sins tracks a narrative arc, it's not exactly linear—it's complex and tangled, treading a more realistic path to healing. "To me, it has this vibe of the stages that you go through when you're grieving, but also how most people don't go through one stage then onto the next one," she says. "They have it over and over. Even in one day, you could experience all of those things and come up with some type of closure, then the next day feel differently. There's not really ever a clean conclusion."
The record's opener gives way to a rush of guitars and both digital and analog drums on the spritely "When You Leave The Sun," a strut in crisp morning sunlight: "On the bright days, I can see the light/When the chemicals blend just right," Koch calls brightly. It's followed by lead single "A Pace Far Different," a guitar-forward bop haunted by chiming keys and pleas for escape. Scattered throughout, between wiry guitar melodies, drum triggers, and cavernous synth patches, are small, insistent mantras: "We give 'em credit, we don't owe 'em that much," on "Even At Your Easel," or the soothing nihilism of "Cosmic Joke," as Koch declares, "Everything I lost, I never really had."The record builds to a close with "Parlor" and "Choose," the first of which opens with light organ and drums, and finds Koch inventorying then stitching up the damage done by putting herself behind others: "I'll gift myself my own respect/Maybe someday time will intercept, and I'll be able to grant my own success/To be happy." It's followed by the clean-slate of "Choose," which reframes power and self-determination over a slow-march of guitars. "Now I live in absence of or inside my least desirable traits/I pick and choose," Koch sings before resolving, "I could wield this magic for good/Make it right, I know I could/If I choose."
Safe Sins is defined equally by pain and hope, two opposing forces that define human existence. The record acknowledges that on some days, the former wins; on the good ones, the latter does. But neither are static endpoints. Both are places we visit often. Gladie are set uponmaking sure the path between them stays open, as Koch shouts firmly on "Twenty Twenty:" "I am angry, I am lonely, but I am optimistic, too!"
Gladie.net • Facebook • Instagram • Twitter • Bandcamp
Sure, Machine
Venue Information:
Beachland Tavern
15711 Waterloo Rd
Cleveland, OH, 44110