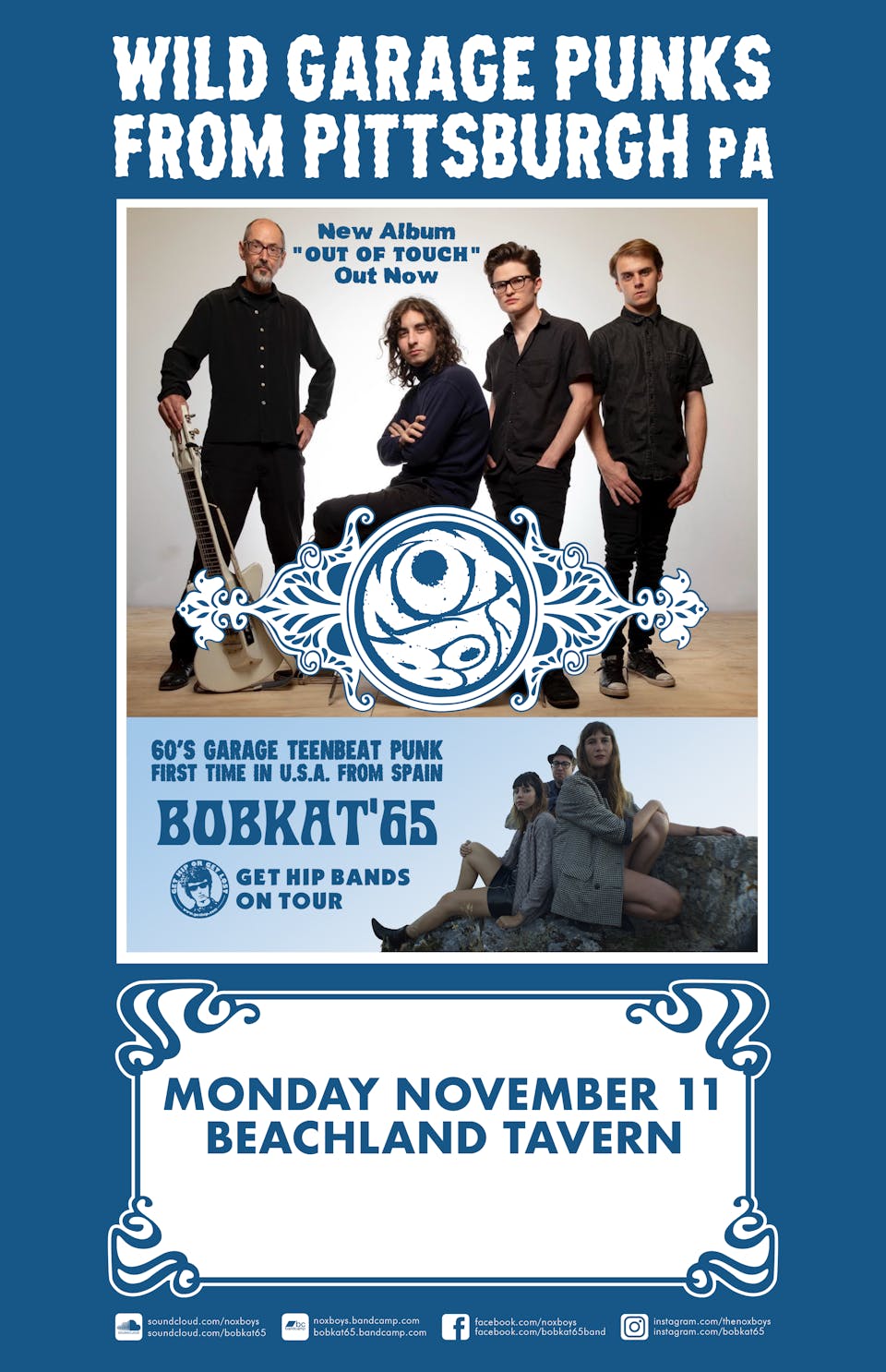 WCSB presents NOX BOYS and Bobkat'65 at the Beachland Tavern.
NOX BOYS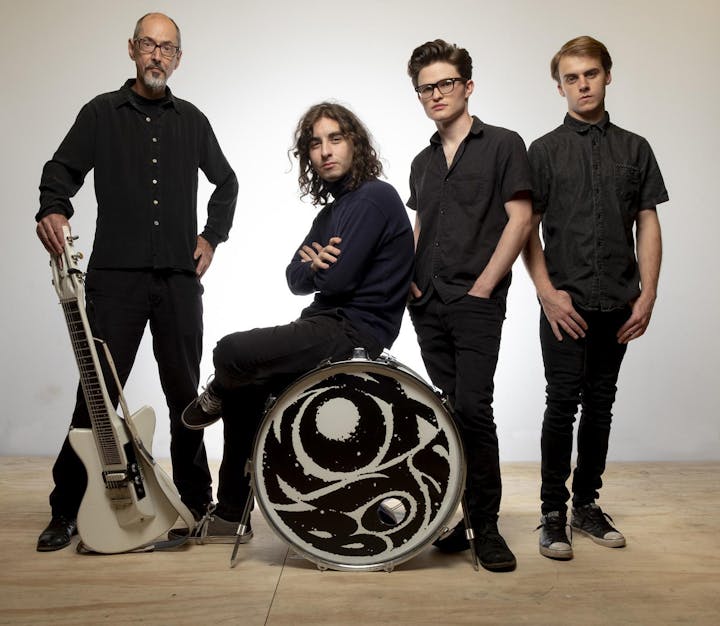 NOX BOYS, straight out of Blawnox, PA, just released their second album on Get Hip Records, "Out of Touch."

The band debuted in 2014 with their self-titled Get Hip album, produced by Jim Diamond at his Detroit studio, Ghetto Recorders. Their record company's co-owner, Gregg Kostelich of the Cynics, knew he had a formidable group of garage band enthusiasts who were ready to create a unique style of their own. He was right.


The Nox Boys have built quite a reputation in Western PA, but their reach doesn't end there. They've opened for notable bands such as Mudhoney, FIDLAR, Twin Peaks, The Black Lips, Jon Spencer Blues Explosion, King Tuff, Chicano Batman, The Cynics, and many more. They have received quite a bit of airplay on Little Stephen's Underground Garage (SIRIUS XM), Burger Records Rock N Roll Radio Show, college radio, and mainstream radio stations in the Pittsburgh area such as WYEP, WDVE, THE X, and more.


The Nox Boys have toured the Midwest (Cleveland, Chicago, Columbus, Detroit, Milwaukee), the east coast (Baltimore, New York, Washington, D.C.) and have performed in Texas at SXSW.


Although they are worlds away from the angst-filled psychedelia of their teenage years, the band has evolved into a serious garage rock outfit. Their sophomore effort features many rockers, as well as mature ballads that display the band's great depth.


The band is somewhat of a family affair featuring an uncle (Bob Powers – Melobar guitar) and his nephew (Sam Berman - drums) and two cousins unrelated to Bob and Sam, Zack Keim (vocals, guitar) and Mitchell McDermott (bass).


Their sophomore effort, "Out of Touch," is OUT NOW on legendary rock label Get Hip Records (GH-1187).
noxboys.com • Facebook • Instagram • Twitter
Bobkat'65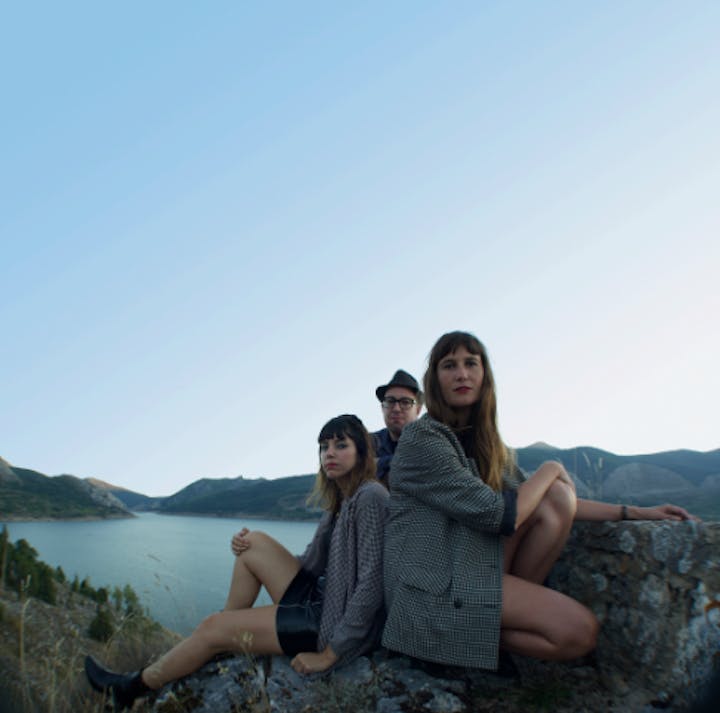 March 2015: Inspired by mid-1960s American "Teenbeat Kiddie Garage" records, three friends from Asturias in Northern Spain decide to form a band. Even their name is unique, inspired by the BOBKAT model guitar manufactured by the Harmony Company in the mid-60s. 

Focused on writing and performing songs in this mold, ANA (Guitar & Vocals), PAULA (Bass & Vocals) and DIEGO (Drums) played their very first live gig six months later in Oviedo, Asturias. Building on the success of their debut, more shows followed in Spain, France, England, Portugal, Germany, Denmark and Italy. The trio also performed at several Garage Rock Festivals. 

BOBKAT'65 recorded their first pair of songs at Estudios Circo Perrotti in Gijón with help from well-known analog recording studio owner/producer Jorge Explosion. "GWANI" an original song named after Ana's lovable pet, is backed by a moody rendition of "TIME," originally recorded by Dexter & The Derbies in 1967. After catching the attention of the garage rock gurus at GET HIP RECORDINGS, BOBKAT'65's first 45 was issued in late spring 2016 to rave reviews worldwide 

In July 2017 GET HIP release the BOBKAT'65's debut album, "THIS LONELY ROAD". Jorge Explosion manned the control board again, capturing new, original material and a handful of well-chosen obscurities recorded by American Teenbeat combos. The album's unifying theme mirrors that of the vast majority of tunes featured on the Pebbles and Teenage Shutdown compilation series: loneliness—the feeling of being an outcast, finding it difficult to fit in. Songs range in style from moody ballads to beat- pounding, punk-tinged rants influenced by well-known '60s Garage groups like The Dovers, Billy & The Kids, The Nightcrawlers, and Thursday's Children–all delivered, of course, with BOBKAT'65's unique Kiddie Teenbeat Garage Rock vibe. 

With these two masterpieces they toured all Europe before they were ready to record again. Just released, their new single including two original songs: "FOUR TIMES A FOOL" / "PAIN EVERYNIGHT" is now available for you to enjoy these amazing hits. 

Shortly to come, we are anxiously waiting for their new LP that is currently being cooked in the pressing plant ."BACK OFF ME" recorded by Jim Diamond, This will be the second LP of BOBKAT'65 and they will be presenting it in the U.S.A. for the first time in November this year!

gethip.com • Facebook • Instagram • Soundcloud • Youtube

Venue Information:
Beachland Tavern
15711 Waterloo Rd
Cleveland, OH, 44110