Tavern will open at 6:30pm with full bar and kitchen service.
OH SEES
Prettiest Eyes
Beachland Ballroom
OH SEES perform at the Beachland Ballroom with Prettiest Eyes.
OH SEES
Psych-punk psychic warrior, ear worm-farmer, and possessor of many stamped passport pages John Dwyer does not let up. His group Oh Sees (aka Thee Oh Sees, OCS, The Oh Sees, etc) have transmogrified to fit many a moment - from hushed druggy folk to groovy demonic pop chants to science fictional krautrock expanse and beyond - to suit his omnivorous whims. It's common knowledge however, that at their shows, you're there asking for a beating. 20 years going and the shows keep getting more and more intense, as many a soupy swarm can attest. The locked-in Rincon/Quattrone drum cops propel masses of strangers to froth and lean into each other as the insistent and repetitive underpinning tumbles nimbly from Tim Hellman's bass. Meanwhile John ricochets breathy yips and snippets of synth and all manner of guitar heroics around your brain canyons while your reptile instincts yell "move". Brain-stem body rock meets cerebral expanses, and their now du jour prolifically feeds a labyrinthine garden of well-hewn tunes.
Last year's Orc was a muscular and darkly inventive turn for the group, stretching out further into space while simultaneously sharpening their heaviest inclinations to a rusty point. After a re-visitation of the softer side of the genesis of the group with "Memory of a Cut Off Head", all signs point to another banger on the horizon as the group decamps this March back to the dusty pecan farm where Orc was spawned for another go-round.In time OCS morphed into an actual band, and worked under the usual flurry of names, most notably as the Oh Sees or the Ohsees, and eventually as Thee Oh Sees, featuring Dwyer on guitar and vocals, Brigid Dawson on vocals and tambourine, Petey Dammit (sometimes listed as Petey Dammit!) on guitar, and Mike Shoun on drums. Along with a relocation to Los Angeles in 2014 the band has re-spawned a few times into their current incarnation of Tim Hellman on bass, Dan Rincon and Paul Quattrone on drums.
Prettiest Eyes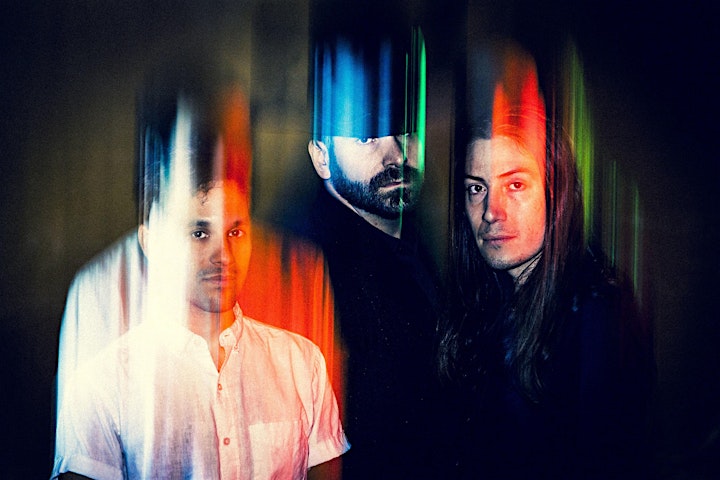 "Last year's "Pools" having taken up a sizable chunk of our cold dark hearts, we were delighted to hear that LA post-industrial trio Prettiest Eyes have a new gang of crowd-stirrers. None too early, either; once you've become accustomed to their clanging synthetic orbit, it's hard to find other tunes that truly scratch the same itch. Volume 3 bursts at the seams with chrome-dipped timbres and surprise sharp edges, alien klaxon-calls and wailing dissonance offsetting the ziplock'd grease of their insistent drum and bass grooves. Prettiest Eyes are one of the most exciting live bands going on right now, and Volume 3 catches them in fine fettle. It's out on Castle Face records June 24th" - Matt Jones (Castleface Records)

Pachy García / Vocals & Drums

Paco Casanova / Keyboards, Electronics & Vocals

Marcos Rodríguez / Bass & Vocals

prettiesteyes.com • Facebook • Instagram • Twitter • Soundcloud

Venue Information:
Beachland Ballroom
15711 Waterloo Rd
Cleveland, OH, 44110