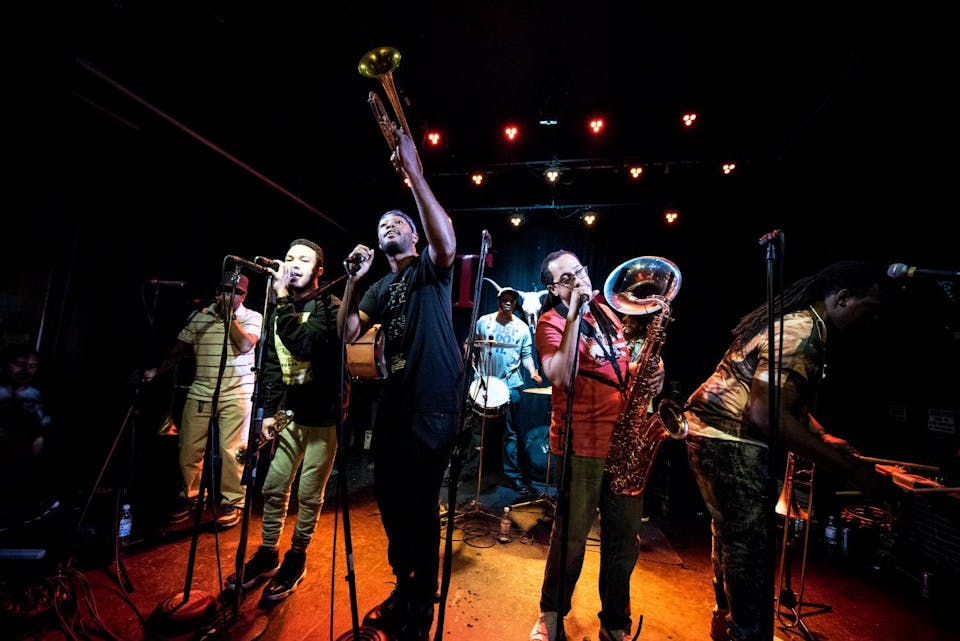 The Human Fund Benefit Concert
Rebirth Brass Band
Beachland Ballroom
$250.00
Sales Ended
On The Human Fund
Rebirth Brass Band performs a fundraiser for the Human Fund at the Beachland Ballroom.
Tickets include Live Music, Soul Food, Open Bar, and Valet Parking.
The Human Fund supports arts education programs for Cleveland youth, providing a commitment to funding the CMSD All-City Arts and Music Program and Festival annually.
We are an unconventional non-profit taking a fresh approach to fundraising. We take arts education seriously and as a friend of the arts, the Human Fund is committed to financial support for youth arts programming.
Rebirth Brass Band
Rebirth Brass Band is a New Orleans brass band. The group was founded in 1983 by tuba/sousaphone player Philip Frazier, his brother, bass drummer Keith Frazier, and trumpeter Kermit Ruffins, along with other classmates and marching band members from Joseph S. Clark Senior High School, which closed in the spring of 2018, in New Orleans' Tremé neighborhood.

Rebirth Brass Band is known for combining traditional New Orleans brass band music, including the New Orleans tradition of second line, with funk, jazz, soul and hip hop.

On October 1, 2007, a large group of local musicians gathered in Tremé near the corner of St. Phillip and N. Robertson streets, to sing and play music in honor of recently deceased fellow New Orleans musician, Kerwin James, younger brother of Rebirth Brass Band founders Phil and Keith Frazier. James had died following complications from a stroke he suffered in 2006. In the course of the gathering, witnesses state that approximately 20 police cars surrounded the musicians "in response to a noise complaint." A debate with the officers ensued regarding the time-honored tradition of "bringing down" (a gathering of musicians from around the city, playing music in the streets near the home or venue of a deceased musician in the days before the funeral or burial of the deceased). After a heated verbal exchange with the police officers responding to the scene, Rebirth drummer, Derrick Tabb and his brother, former Rebirth member Glen David Andrews, were both arrested and charged with "parading without a permit" and "disturbing the peace by tumultuous manner.

Neighborhood citizens dubbed the brothers "The Tremé Two", lauding them as unwitting heroes and advocates for their community and their voice with the city and the police department. There was also public outcry on what was deemed as an attack on the city's culture by an influx of new post-Katrina residents in the neighborhood plus furor over the escalation of permitting fees for parading in certain areas of New Orleans, while fees in tourist areas remained nominal.

A fictionalized adaptation of the street memorial and the arrests of Tabb and Andrews is featured in Season 3, Episode 1, Knock with Me... Rock with Me... of the HBO's Tremé TV show.

Venue Information:
Beachland Ballroom
15711 Waterloo Rd
Cleveland, OH, 44110