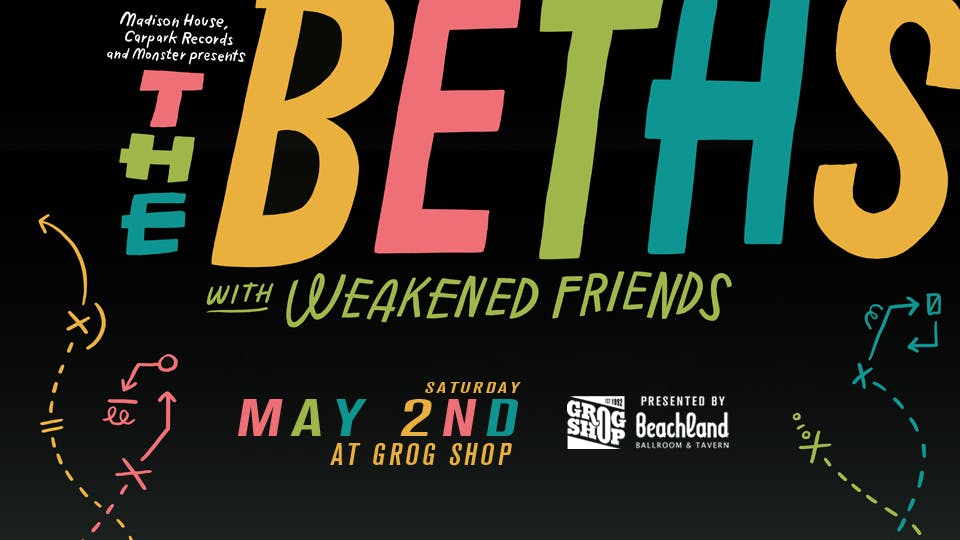 The Beths
Weakened Friends, Biitchseat
Grog Shop
The Beths perform at The Grog Shop with Weakened Friends and Biitchseat.
The Beths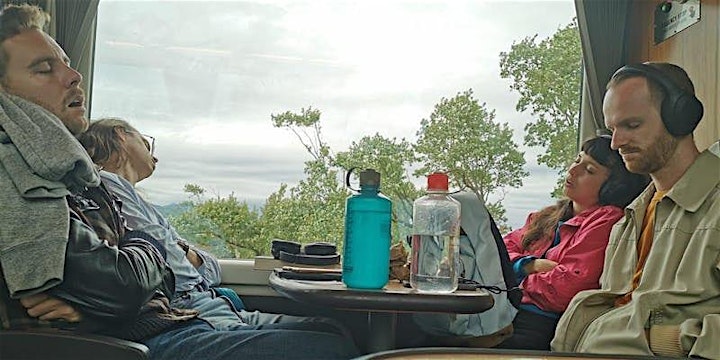 New Zealand four-piece The Beths channel their longtime friendship into high-energy guitar pop with a smart lyrical bite. Guitarist, lead vocalist, and primary songwriter Elizabeth Stokes and guitarist Jonathan Pearce attended high school together before meeting up with longtime mates bassist Benjamin Sinclair and drummer Ivan Luketina-Johnston at the University of Auckland, where all four studied jazz. After gigging together in a variety of configurations, the quartet came together for a project exploring the pop and rock sounds of their youth. Everything clicked, and The Beths were born.
Their debut EP, 2016's Warm Blood, overflows with explosive guitar riffs and infectious indie-rock hooks. Produced by Pearce and featuring all four members on joyful vocal harmonies that recall the best '60s pop, tracks like ace lead single "Whatever" and impossibly catchy standout "Idea/Intent" earned the all-killer, no-filler release rave reviews from the New Zealand music press.
2018 was a breakout year for The Beths, beginning with a signing to Carpark Records. A beloved live act across Australia and New Zealand, the band toured the U.S. and Europe, where singles from the forthcoming album Future Me Hates Me got audiences beyond the bottom of the Pacific Ocean hooked on their ebullient sounds. The title track 'Future Me Hates Me' has been received enthusiastically, earning radioplay worldwide, and second single 'Happy Unhappy' was named 'Song of the Summer' by Rolling Stone Magazine. Their freshman album, Future Me Hates Me, also produced by Pearce, arrives on August 10th; fans of artists like Sleater-Kinney and Best Coast should remain on high alert for the first full-length from their new favorite band
Weakened Friends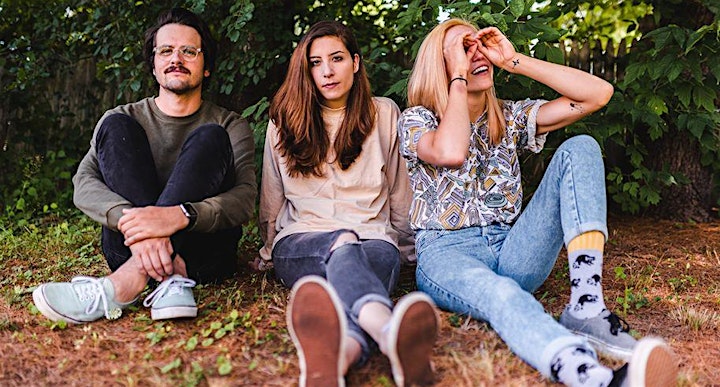 100 or so miles north of Boston, you'll find Portland, Maine.
Among its many awesomely quirky attractions (beyond dope AF lobster rolls, of course), the mini-metropolis boasts the International Cryptozoology Museum and even served as the site of the nation's first chewing gum factory. Suffice it to say, the town possesses all kinds of character and charm. It also makes perfect sense as HQ for Weakened Friends.
Three alternative rock wiseasses and snack food connoisseurs, the trio—Sonia Sturino [vocals, guitar], Annie Hoffman [bass], and Cam Jones [drums —first congregated in their adopted hometown during 2014. Sonia had recently relocated from Toronto and holed up in a house with Cam and a bunch of other dudes before witnessing Annie play live and asking her to join the band. As they released two independent EPs, Gloomy Tunes and Crushed, they stirred up a palpable buzz (between consuming sour spaghetti and causing trouble). Gigs followed with everyone from CHVRCHES and Silversun Pickups to Beach Slang and Juliana Hatfield as they made their 2017 debut at SXSW and earned praise from Vanyaland, CBS, If It's Too Loud, and many more. A wiry, whimsical, and wild fusion of disarmingly pop hooks and fuzzed-out riffery that wouldn't be out of place on the Reality Bites soundtrack or in a modern Brooklyn bar fueled this quiet rise.
"If something is ear catching and interesting, I'm drawn to it," says Sturino. "I love pop hooks, but I have this truly weird and shaky voice. I started to embrace that, and I think people connect to the sound."
For the uninitiated, they'll definitely connect to the group's 2017 single "Hate Mail" featuring J Mascis. On the track, a buzz of feedback slips into melodic guitar and an unshakable rhythm as the frontwoman captivates with the confessionally catchy refrain, "I hate everything you're saying, get away from me. I hate everything we're doing, it's a waste of me." It's the perfect backdrop for an epic Mascis cameo.
"It's about when I was miserable in this other band," recalls Sturino. "This is the most important thing to me. I don't live comfortably. I don't have a lot of money. I don't have a lot of free time, because I'm putting all of my effort, passion, and self into music. So, it has to be the right situation. At the time, I just wasn't working with the right team. The song is about those corrosive relationships with emotionally abusive assholes. J is a guitar god for indie rock. He's an obvious inspiration, and he killed it."
"Hate Mail" hints at a lot more to come from Weakened Friends. For Sturino, the band brings everything full circle. In tow with her best friend Cam and wife Annie, she encodes a powerful message in the lyrics.
"A lot of times, you hear expressions like, 'Find your happy'," she leaves off. "I think you should find yourself. Our music is about self-awareness and finding that. Sometimes, you're having a shitty day. It can be hard, and that's beautiful in its own way. In the North American mentality, if you're depressed or sad, you have to just get rid of it. This is less about getting rid of that feeling and finding those things causing the feeling and dealing with them. It's self-awareness, believing in yourself, finding yourself, and defining how you feel. That's what this band is to me."
weakenedfriends.com • Facebook • Instagram • Twitter Spotify • Youtube
Biitchseat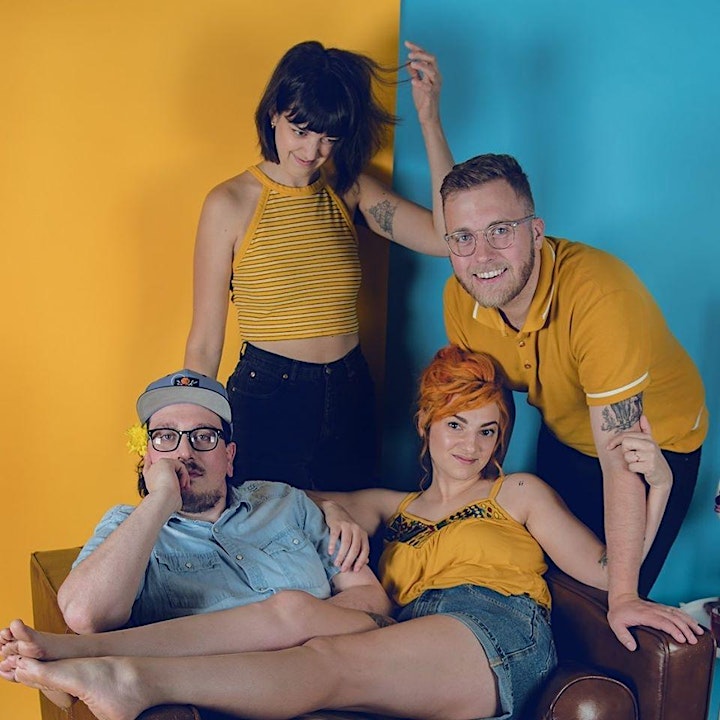 Venue Information:
Grog Shop
2785 Euclid Heights Blvd
Cleveland Heights, OH, 44106